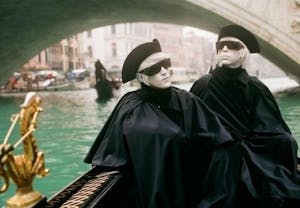 Drab Majesty, Body Of Light, HIDE
Drab Majesty
Drab Majesty is the solo project of Deb DeMure, the androgynous alter-ego of L.A.-based musician Andrew Clinco. With its combination of reverb-drenched guitars, synth bass lines, commanding vocals, and rhythmic drum machine beats, this project is a stark departure from Clinco's previous stints as drummer in Marriages and Black Mare. Dubbed "Tragic Wave" and "Mid-Fi" by DeMure, Drab Majesty eloquently blends classic 80s New Wave and hints of early 4AD with a futuristic originality. Drab Majesty's first release, a limited-edition cassette of 100 copies titled Unarian Dances, was self-released in 2012 and re-pressed by Lolipop Records shortly thereafter. Drab Majesty then signed with Dais Records and put out the debut LP Careless in 2015. Careless was met with high praise from critics and fans alike, and the original pressing is now a sought-after gem. A year after the initial pressings of Careless sold out, Dais released a compilation titled Completely Careless, featuring Drab Majesty's entire discography, including two previously unreleased tracks
A talented multi-instrumentalist, DeMure composes all of the elements of Drab Majesty. However, rather than taking personal credit for the music, DeMure insists that the inspiration for the songs is received from an other-worldly source and that Deb is merely a vessel through which outside ideas flow inward. But Drab Majesty is more than just a musical project — it's a methodical experiment in the identity of creativity. The character Deb DeMure is an enigma that eludes all expectations of gender and ego. When DeMure's imposing 6' 4" figure assumes the stage, Deb's playful, harlequinesque appearance, tempered by an ominous body language, and clashing with the dreamy, ethereal melodies comes across as a web of contrasts. The result is a perfect balance between seemingly conflicting messages, between the high and the low, the drab and the divine.
Body Of Light
Formed in 2012 in the wasted sands of Tempe, Arizona, electronic dance faction Body of Light have proven to be a teeming creative force within the present-day electronic landscape. As the archaic drones and abstract measurements of their earliest collections have evolved into to prodigious cinematic pop ballads and darkwave compositions, it's clear that the two brothers, Alex and Andrew Jarson, are no strangers to blurring the compositional lines that confine underground music. Having worked together and separately over the years within the folds of the co-founded Ascetic House collective, Alex and Andrew have given life to a variety of projects such as Otro Mundo, Blue Krishna, Somali Extract, and Memorymann, and also have unveiled over a dozen visual, audio, and written works under various other monikers. Body of Light is simply another extension of their exercised method of immediate and natural experimentation.
After previous releases on Chondritic Sound and Ascetic House including Follow The Current, Lustre, Universal Sin, Volantà Di Amore, and Limits of Reason, Body of Light teamed up with Dais Records for their 2016 LP Let Me Go. This release shows the bands evolved sound from embryonic ideas to fully-realized synth-pop anthems and erotic aesthetics. Let Me Go came full circle under the production guidance of engineer Ben Greenberg (Uniform/ The Men), and each song follows the next with lucid moments of catharsis and romanticism that pull from their self-conscious mysticism and lawless spiritual hedonism.
Hesitant to define themselves strictly as a "synth-pop" collaboration, the brothers incorporate a wide variety of components into Body of Light's sound. They attempt to formulate an unparalleled artistic direction filled with decay, warped tape loops, aging VHS home-movie sound samples from their childhood, primitive waveforms, and processed vocals tinged with harmonic specters. Their aim is to utilize past and present technologies in a way that feels unique, honest and sensible.
HIDE
Starting in 2014 as a collaboration between visual artist Heather Gabel and percussionist Seth Sher, the Chicago based industrial duo known simply as HIDE was formed. The following three years have seen HIDE crash through with a number of aggressively rendered singles and EP's while quietly collecting the shattered pieces that would form their debut full length album, Castration Anxiety.
Those familiar with HIDE's provocative live performances will already be accustomed to the hypnotic low-end and sinister vocal delivery that has become the band's signature. The opening track, Fall Down, sets an eerie tone that permeates Castration Anxiety until the end. Throbbing pulses swirling around Gabel's death laden mantras succumb to themes harvesting power from desperation and hopelessness.
The first single and video for Wildfire, keeps the same repetitive, dark emphasis but delves deeper into the ideas of the physical world rejecting its inhabitants. Harkening back to the slow, brooding industrial anthems from decades before, HIDE's treatment of this sound is notably unique as it is familiar.
Tracks such as Fucked (I Found Heaven) and Bound/Severed ratchet up the tempo with a hedonistic dance floor séance. Each song ripping apart the ideas of empowerment and autonomy, throwing them back out to the audience in the form of Sher's addictive rhythms, shattered EBM-styled samples whipped at the end of a leash, held in check by Gabel's cathartic delivery.
Wear Your Skin unveils HIDE in a disruptive personal state. Churning electronics stepping up to anthem–styled synth melodies, disrupted sparingly by incantations of Gabel's experiences about identity and obsession, blurring those themes into prophetic feedback.
The past few years has seen HIDE touring nationally, playing alongside related acts such as ADULT., Ceremony and Champagne Mirrors, as well as providing main support for Marilyn Manson during The Pale Emperor tour.
Dais Records presents HIDE "Castration Anxiety" on March 23, 2018 in limited edition splatter and clear vinyl, as well as standard black vinyl and digital formats. Castration Anxiety was recorded by engineer Joe Cardamone at Valley Recording Co, who contributed additional instrumentation and arrangements, with additional recording and mixing by Adam Stilson at Decade Music Studios.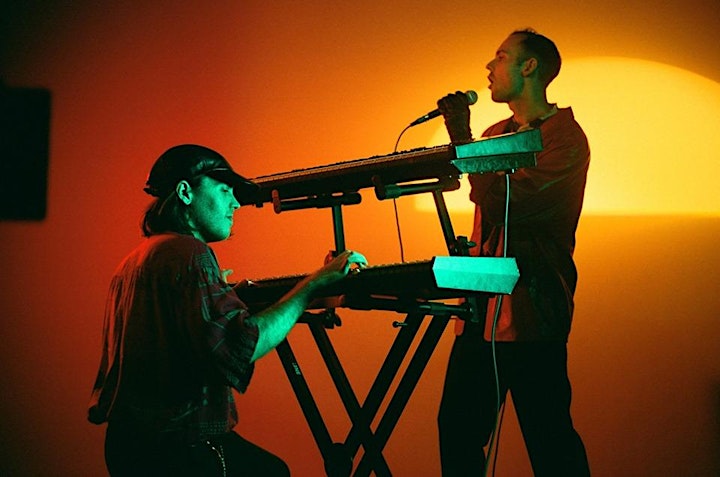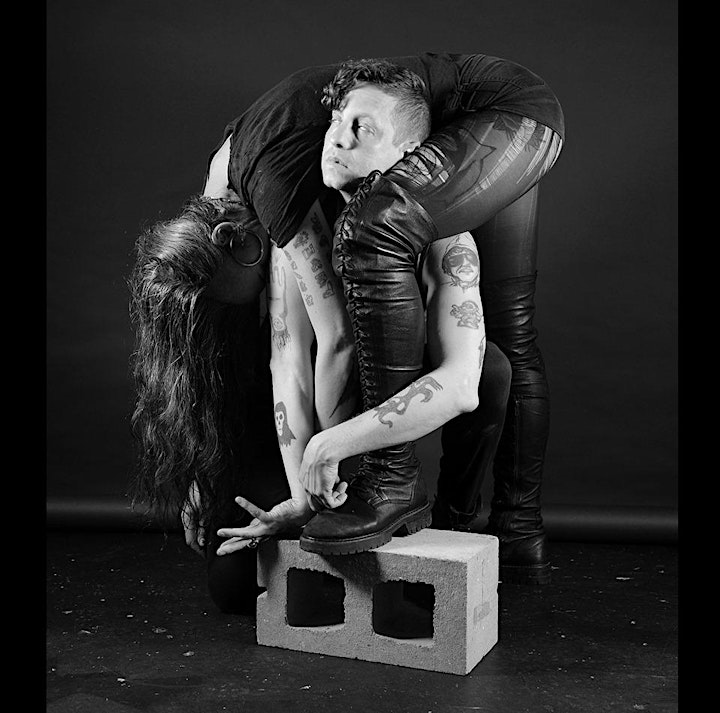 Venue Information:
The Pinhook
117 West Main Street
Durham, NC, 27701