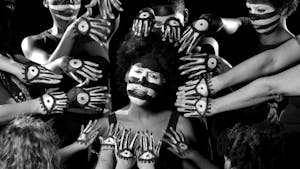 Americana for the people..
Kamara Thomas, writes hypnotic musical tales and astro-religious songspells culled from the rich and ancient landscape of the American experience.
Kamara and her neo-cosmic Americana jam-band The Night Drivers create a sonic world that echoes Fleetwood Mac, The Band, spirituals, hymns, Emmylou Harris, Dolly Parton, The Doors, Tom Petty, The Grateful Dead, mountain-songs and Native American songlines.
A myriad of intricate vocal harmonies and multi-instrumental adventures lilt over southern, folk-rock, country-soul, and dreamy pop grooves. In other words, satisfaction guaranteed.
Karen & The Sorrows
Queer country trailblazers Karen & the Sorrows have been featured in Billboard, WNYC's The Takeaway, and Rolling Stone, who described them as "Dolly Parton fronting Tom Petty's Heartbreakers." Noisey called the band "exactly what country music needs right now." For the last eight years, they have also been at the heart of a growing queer country community, running the Gay Ole Opry Festival and the Queer Country Quarterly, and creating space for people who love country music even if country music doesn't always love them back.
With the Sorrows' third album, Guaranteed Broken Heart, which will be released on October 18th, singer-songwriter Karen Pittelman has struck off in new directions. While many of the songs still center around the dark, country-rock twang that Pittelman loves, she also dove more deeply into both '90s country and string-band inspired sounds.
Pittelman formed the Brooklyn-based Sorrows in 2011 together with guitarist Elana Redfield and drummer Tami Johnson. In 2012, they released the EP Ocean Born Mary about a ghost story from Redfield's New Hampshire hometown. In 2014, they put out their first full-length record, The Names of Things, which was voted one of the Freeform American Roots Chart's best debut albums of 2014. On their 2017 sophomore record, The Narrow Place, The Sorrows continued building their heartbreak catalog with songs that were both unexpected and entirely country, from a queer reimagining of the bro-country pickup truck ode to a Jewish family story about immigration and race.
After parting ways with bandmates Redfield and Johnson in 2018, Pittelman began work on Guaranteed Broken Heart. She called on friends and frequent collaborators to form her core electric band, including engineer Charles Burst, who stepped into the additional role of drummer for this album, guitarist Barbara Endes from fellow country-rock band Girls on Grass, Larry Cook on bass, and Gerard Kouwenhoven on harmonies. She also reached out to members of Brooklyn's strong bluegrass and old time scene to put together an all-star line-up, including Rima Fand on fiddle, Ross Martin on guitar, and Cole Quest Rotante on dobro.
The Sorrows will be celebrating the release of Guaranteed Broken Heart on October 18th at Brooklyn's Littlefield, and then hitting the road for a southeastern tour in November.
Venue Information:
The Pinhook
117 West Main Street
Durham, NC, 27701