NC BANDS
Thirsty Curses
Raleigh-based Thirsty Curses is garage rock outfit formed in 2017 as a vehicle for singer-songwriter Wilson Getchell's material. Thirsty Curses is comprised of Wilson Getchell (vocals, guitar, piano) and Kelley Otwell (lead guitar), Phillip Harrington (drums), and Claytron Herring(bass).
Thirsty Curses' sound covers a fast array of rock 'n roll subgenres including punk, folk, country, prog rock, 90s alternative, and pop. 
 Indeed, as was noted by Alternative Addiction in their review of the band's sophomore record All Shook Up (2018), "the band has an eclectic sound that touches on everything from punk rock to folk. They sound like a cross between the Avett Brothers and Rise Against. On their new album that diverse sound is delightfully all over the place." Dying Scene online music mag similarly raved
 "As schizophrenic as their genre influences seems to be, the one common denominator is that I dig every single track I'm hearing."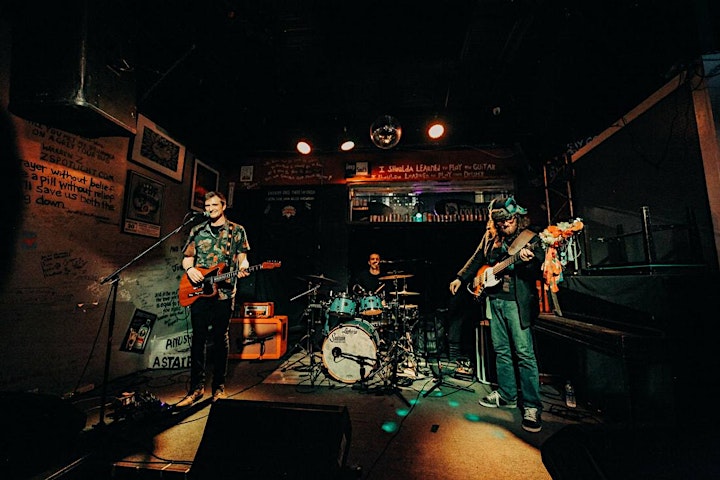 Solar Bear is a 4 piece Groove Rock band from Raleigh, NC with a soulful flare. Our writing is simple, yet powerful, speaking on many different topics such as love, life, anguish, and hope. Undeniable grooves are provided by Alex Jolly on the drums, Jake Rowe on lead guitar and Robbie Dooley bringing the tastefully melodic bass lines, mixed with the soul-soothing sounds of Jared Place's voice and guitar. All together, powerful and dynamic.

Blue Frequency

Four boys who like making raucous rock and roll music from Raleigh, North Carolina.

We are Spencer Beck, Lee Roberts, Eric Heames and Julian Brady.

Venue Information:
The Pinhook
117 West Main Street
Durham, NC, 27701